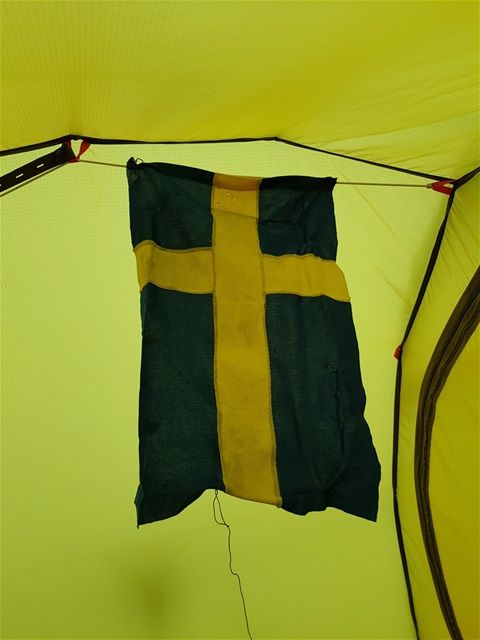 dag 7 Skaboholmen
dag 7 Skaboholmen
Skaboholmen
Distans 0km Tot 178km
Lat 58°02.118` Long 11°29.958`
Vind S-SV 8-15
Det här var första inblåsta dagen utan paddling, känns frustrerade att ligga på land en hel dag. Kunde ha kastat loss och kört ett par timmar nu ikväll men väljer tidig start imorgon och försöka hitta en bra plats innan nästa blåsväder slår till, SMHI hotar med upp mot 18 m/s från sydväst lördag em- söndag.
En bra sak att ha med sig dagar av inblåsning är en miniradio att ligga och lyssna på (musik/sjörapport om Internet ligger nere) , har testat 2st modeller av billig kvalitet inköpt på Teknikmagasinet och Clas Olsson, dessa var hjälpligt användbara inne i ett samhälle men ute på turerna helt värdelösa. Köpte istället en radio från Sony ICF-P26 som fungerar riktigt bra.
Idag fick jag istället nöjet att gratulera min fru på hennes födelsedag så den svenska flaggan hissades inne i tältet till hennes ära, imorgon är det ju Nationaldagen så här det flaggas 2 dagar i rad.
Dagens låt får bli "Birthday" med Kate Perry
Skaboholmen
Distance 0km To 178km
Lat 58 ° 02.118` Long 11 ° 29.958`
Wind S-SV 8-15 m/s
This was the first "stucked by wind day" without paddling, feeling frustrated to lie on land for a whole day. Could have departed and paddle a couple of hours tonight but chooses an early start tomorrow and tries to find a good place before the next windy weather strikes, Weather forecast threatens with up to 18 m/s from southwest Saturday and Sunday.
A good thing to bring days of inspiration is a mini radio to lie and listen to (music / sea report if the Internet is down), have tested 2 models of cheap quality purchased at Teknikmagasinet and Clas Olsson, these were helpfully useful in a community but out on the tours completely useless. Bought instead a radio from Sony ICF-P26 which works really well.
Today I instead had the pleasure to congratulate my wife on her birthday so the Swedish flag was hoisted inside the tent in her honor, tomorrow is National Day so it is flagged 2 days in a row.
Today's song will be "Birthday" with Kate Perry