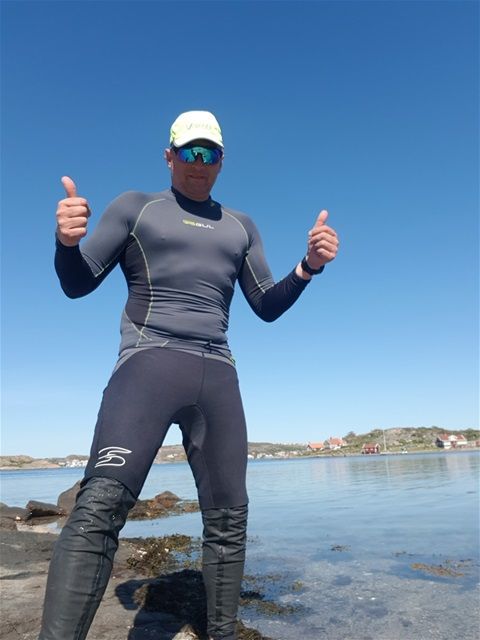 Dag 3 Käften – Dannemark
Dag 3 Käften – Dannemark
Käften- Dannemark 
2020-06-01
Distans ca 24km Tot 86km
Lat 58°30.810` Long 11°15.633`
Vind NO 5-10
Glömde 2 händelser från gårdagen:
1. Precis när jag sitter och blickar ut över Tjurepannan så ringer min mobil och Kentas "Just i dag är jag stark" ljuder som mobilsignal, det tog jag som ett tecken på att inget kan gå fel
2. Upptäcker att min kajak är nästan fylld med vatten i sittbrunnen vid Saltö, full panik in mot land, tankar om läckande skrov far genom huvudet, men efter att ha tömt ut sittbrunnen så misstänker jag att någon rem hade kommit mellan kapellet och sargen och med akterliga vågor som hela tiden sköljde över min djupgående kajak så rann det in ordentligt med vatten som kunde ha slutat illa.
Idag så har det gått segt, jag har brottas med illamående men som släppte lite på eftermiddagen. Fin paddling där jag lyckades fylla en vattensäck trots varningar om en folkilsken campingägare, blev till att leka ninja och smita förbi med fylld vattensäck. Värmen gjorde att byxorna från Reed Chillcheater åkte på och julklappströjan (bilden) från fina bonusbarnen togs på, torrdräkten packades ner då den fick mig att svettas floder
Liggger nu på den fina ön Dannemark och skall försöka komma iväg skapligt imorgon bitti om kroppen tillåter det.
Dagens låt: Kenta Gustafsson "Just idag är jag stark"
Käften- Dannemark (no – it´s NOT Denmark) 😉
Distance about 24 km Tot 86 km
Lat 58 ° 30.810` Long 11 ° 15.633`
Wind NE 5-10 m/s
Forgot 2 events from yesterday:
1. Just when I sit and look out over Tjurepannan, my mobile rings and Kenta's "Right today I'm strong" sounds like a mobile signal, I took that as a sign that nothing can go wrong
2. Discover that my kayak is almost filled with water in the cockpit at Saltö, full panic towards land, thoughts of leaking hull pass through my head, but after emptying the cockpit, I suspect that some strap had come between the spraydeck and the rim and with stern waves that constantly washed over my deep kayak, it flowed in properly with water that could have ended badly.
Today it has been tough, I have struggled with nausea but that released a bit in the afternoon. Nice paddling where I managed to fill a water bag despite warnings about a angry camping owner, became a ninja and slipped past the owner with a filled water bag. The heat made the pants from Reed Chillcheater go on and the Christmas gift sweater (pictured) from the nice bonus children was put on, the dry suit was unpacked as it made me sweat rivers
Now located on the beautiful island of Dannemark and will try to get away reasonably tomorrow morning if the body allows it.