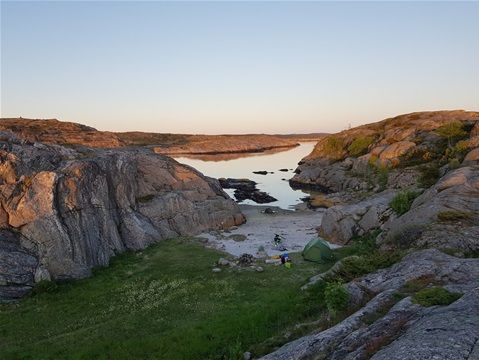 Dag 2 Karholmen – Käften
Dag 2 Karholmen – Käften
Karholmen – Käften
2020-05-31
Distans 33,36km Tot 61,95
Lat 58°41.921` Long 11°14.144′
Vind NO 5-9 vridande mot ost
Började dagen med att försöka hitta en söndagsöppen butik som säljer mobiltelefoner, detta då min helt plötsligt blev varm och tömde batteriet på kort tid, detta har hänt förut vid ett par tillfällen men efter lite pyssel så fick jag i gång mobilen, hoppas det håller i sig (inte helt lätt att hitta en strandnära elektronikbutik heller). Nu är det inte det den enda elektronik som krånglar, även GoPro kameran trasslar med uppkopplingen mot min fjärrkontroll. Typiskt att på en sådan här resa där man lever spartanskt så är det den moderna elektroniken som fallerar.
Efter gårdagens pärs med att ta sig igenom strömmen av motorbåtar in/ut till Strömstad på en lördagseftermiddag där man känner sig som en gångtrafikant på Essingeleden så var det skönt att åka iväg till ett lugnare parti av skärgården. Lunchstopp på trevliga Lindholmen med ett bad i solen var riktigt skönt. Fortsatte neråt i lugnt tempo då jag ville brottas med Tjurepannan på kvällen då vinden oftast lägger sig vid 18-19 tiden.
Passagen gick fint men man känner trots ostlig vind att det händer saker i vattnet utanför Tjurepannan, förmodligen strömt vatten som ger konstiga vågor. Hamnade sen på ön Käften där jag nu skall försöka sova ikapp de senaste dagarnas dåliga sömn.
Dagens låt med tanke på allt elektronikstrul "21st century digital boy" med Bad Religion
Karholmen – Käften
Distance 33,36 km Tot 61,95 km
Lat 58°41.921` Long 11°14.144′
Wind NE 5-9 m/s
Started the day by trying to find a shop open on Sundays that sells mobile phones, this when mine suddenly got hot and drained the battery in a short time, this has happened before on a couple of occasions but after a bit of work I got the phone started, hope it lasts itself (not quite easy to find an electronics store near the beach either). Now it's not the only electronics that are a problem, even the GoPro camera is tangled with the connection to my remote control. Typically, on a trip like this where you live spartanly, it is modern electronics that fail.
After yesterday's effort to get through the stream of motorboats in / out to Strömstad on a Saturday afternoon where you feel like a pedestrian on a highway, it was nice to go to a quieter part of the archipelago. Lunch stop on nice Lindholmen with a swim in the sun was really nice. Continued downhill at a leisurely pace as I wanted to wrestle with Tjurepannan in the evening when the wind usually settles at 18-19.
The passage went well, but despite the easterly wind, you feel that things are happening in the water outside Tjurepannan, probably strong currents that gives strange waves. Then ended up on the island Käften where I will now try to catch up with the bad sleep of the last few days.