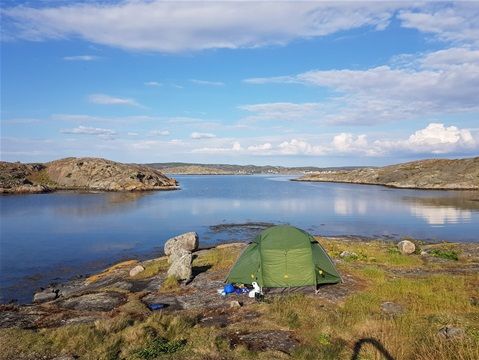 Dag 5 Lindholmen – Danholmen
Dag 5 Lindholmen – Danholmen
Lindholmen/Fiskebäckskil – Danholmen
2020-06-03
Distans 25km Tot 165km
Lat 58°06.575` Long 11°25.580`
Vind S-SW 5-10
Har mått bättre idag men sov lite dåligt igen. Tog mig genom det smala sundet på insidan av Fiskebäckskil där strömmen var överraskande stark, fick kämpa att bara hålla 5km/h och en segelbåt som jag mötte hade lä och hängande segel men kom farande i bra fart. Tog vila på den vackra ön Danholmen där jag klurar på framdriften när man studerar SMHI's höstväder med ösregn och hårda vindar. Nöjde mig med en kort distans idag då jag vill få kroppen att funka normalt igen så kan vi öka senare.
Någon naturkunning som vet om det bor en gök på varje ö i Bohuslän eller är det samma terrorist som förföljer mig? Och heter det att göken "ko-koar" eller "gökar den" ? Många frågor i luften
Dagens låt med tanke på den tröga motströms-paddlingen som påminde om att paddla på en flod: Styx "boat on the river"
Lindholmen / Fiskebäckskil – Danholmen
Distance 25 km Tot 165 km
Lat 58 ° 06.575` Long 11 ° 25.580`
Wind S-SW 5-10 m/s
Have felt better today but slept a little badly again. Took me through the narrow strait on the inside of Fiskebäckskil where the current was surprisingly strong, had to struggle to only keep 5 km/h and a sailboat that I met had shelter and hanging sails but came sailing at good speed. Took rest on the beautiful island of Danholmen where I figure out the progress when studying SMHI's "autumn-weather" with torrential rain and strong winds. I was satisfied with a short distance today as I want to get my body to function normally again so we can increase later.
Does any naturalist know if there is a cuckoo on every island in Bohuslän or is it the same terrorist who is persecuting me? And is it called that the cuckoo "ko-koar" or "cuckoo it"? Many questions in the air
Today's song considering the sluggish upstream paddling that reminded me of paddling on a river: Styx "boat on the river"