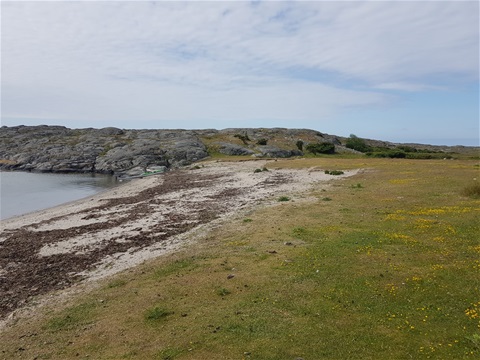 Dag 11 Björkholmen – Öckerö (Halland)
Dag 11 Björkholmen – Öckerö (Halland)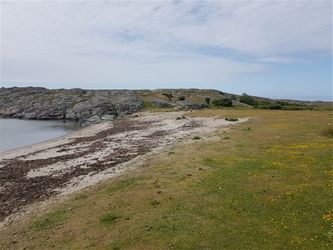 Björkholmen (utanför Billdal) – Öckerö (Onsala-halvön)
2020-06-09
Distans 25 km Tot 278 km
Lat 57°22.361′ Long 11°56.373`
Vind NV vridande mot V 5-12 m/s
Lär mig nya saker varje dag, imorse kl 05.00 så var kajaken packad och redo för avfärd. Problemet var bara att vattenståndet var betydligt lägre nu än igår, att backa ut kajaken mellan stenarna kändes inget bra med tanke på risk för smashat roder, då hade jag valet mellan att packa ur kajaken, vända på den 180 grader eller dra upp den med ca +100kg packning kajak på hala stenar, bära upp den 10m på land och vända runt 550cm kajak, givetvis provade jag det senare, utegymmet är nu utökat med "gående marklyft på lutande klippa" — Den du Arne Tammer.
Paddlingen gick bra söderut på en karg kust som kändes svår att komma iland på dom fåtal öar som fanns. Kommer till Öckerö för lunch men då sade förnuftet att ta rast och läger, kände mig inte i form för att gå över Kungsbackafjorden när man är lätt illamående och yr, -säkerheten först.
Stannade istället för att äta ordentligt då jag tror att det är det som fattas. Sälmöte 7, 8 och 9 var trevligt och minst en säl slog följe en bit.
Inser att jag nu är inne i landskap nr 3 på resan: Halland, och har lämnat Skagerack till förmån för Kattegatt.
Inte har jag seglat på sju hav ännu men 2 så vi kör dagens låttitel: "Sailing on Seven seas" med Orchestral Manouvers in the dark
Skärholmen- Öckerö
Distance 25 km Tot 278 km
Lat 57 ° 22.361 'Long 11 ° 56.373`
Wind NW turning to W 5-12 m/s
Teach me new things every day, this morning at 05.00 the kayak was packed and ready for departure. The only problem was that the water level was significantly lower now than yesterday, backing out the kayak between the rocks did not feel good considering the risk of a smashed rudder, then I had the choice between unpacking the kayak, turning it 180 degrees or pulling it up by approx. + 100kg packing kayak on slippery rocks, carry it up 10m on land and turn around 550cm kayak, of course I tried the latter, the outdoor gym is now extended with "walking ground lift on a sloping cliff" – Haha – in your face Arne Tammer (Swedish bodybuilder legend).
The paddling went well south on a barren coast that felt difficult to land on the few islands that existed. Coming to Öckerö for lunch but then said the sense to take a break and camp, did not feel in shape to cross the Kungsbackafjord when you are slightly nauseous and dizzy, -security first.
Stayed instead of eating properly as I think that is what is missing. Seal meeting 7, 8 and 9 was nice and at least one seal followed a bit.
Realize that I am now in landscape no. 3 on the trip: Halland, and have left Skagerack in favor of the Kattegat.
I have not sailed on seven seas yet but 2 so we run today's song title: "Sailing on Seven seas" with Orchestral Manouvers in the dark